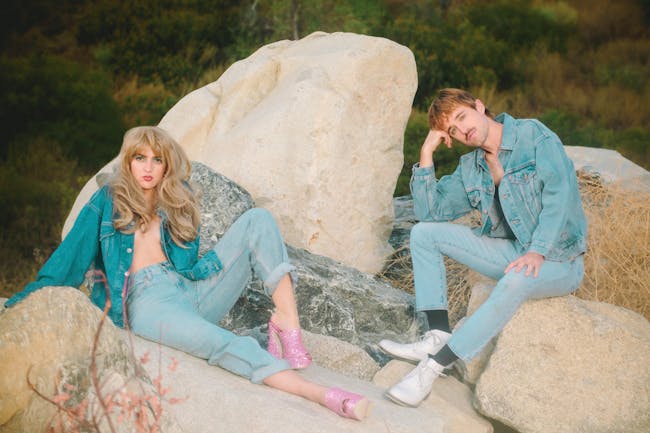 Moroccan Lounge Presents
HOLYCHILD
Website | Facebook | Twitter | Instagram | Spotify | YouTube
"Los Angeles duo Holychild make bombastic, R&B-influenced, electronic-based pop that showcases vocalist Liz Nistico's and multi-instrumentalist Louie Diller's witty sense of tongue-in-cheek irony and knack for critiquing pop culture trends. Initially, Nistico and Diller met while they were students at George Washington University in Washington, D.C. After graduating, they relocated to Los Angeles, where they officially formed Holychild. After their 2013 single 'Happy with Me' gained traction online, including hitting number one on the Hype Machine, they signed with Glassnote and released the MindSpeak EP in 2014. That same year, they also opened for Danish singer MØ on tour. In 2015, they delivered their full-length studio debut, the Greg Wells and Cian Riordan-produced The Shape of Brat Pop to Come, which included the single 'Running Behind.'
A second EP, America Oil Lamb, appeared the following year. In 2018, Holychild returned with the single 'Wishing You Away' and they released their sophomore album, 'The Theatrical Death of Julie Delicious' in November 2019." - Matt Collar
HOLYCHILD's new songs say everything they were too scared to say in the past. Ok, I'll be real. They say everything that I was too scared to say in the past.
I don't know what to tell you. I'm a human. Louie and I started writing music in 2012, and that was my first time writing music, and his first time producing. Of course we have evolved. What would you do in that situation?
The new music is a progression from observation to self-evaluation. It's more raw.
When I started writing lyrics it started in a place of analysis. I used to think, "I write feminist social commentary because of my dad. I watched him under the pressure that is placed on males in our society and I saw how he treated me and my family because of those pressures. It made me evaluate my own gender roles and expectations and how that influences my actions." Then I analyzed myself and my own roles and I wrote the words to accompany pretty much all music that we have released thus far.
Luckily since our last release, society has been on the same page in terms of the feminist (and all the other obvious equality-based) reforms that need to take place in our world.
Sooooo with this music I finally started to face the things that scared me the most. Speaking up about my relationship with my dad. Speaking up about my fear of love. Speaking up about my fear of the music industry. Actually, I recently told someone that in the past few years all of my fears have come true. I'm not complaining, I am newly empowered!
There's nothing I can say here that you couldn't look up online (I know your internet sleuthing skills are top notch). Me and Louie met in college, we moved to LA, released music with HOLYCHILD and signed to a label, and honestly the whole whirlwind kind of fucked me up. I mean, the attention made me scared to trust people around me. Did they like me or do they just want me to post them on social media? Also, I felt like I lived and died in this bubble, like I was not valued as a human outside of the band.
To create you have to surrender. You have to get to this place where you say to yourself: Ok, self. This is it. You have been brought here for a reason. You're on earth and that's all that matters. These people around you only exist in your mind. Nothing matters except your relationship with yourself. And ok, maybe this means that pretty soon you're going to move to a monastic ashram and live in the Himalayas. Maybe you're going to lose everything and that doesn't matter because that's going to be your journey so just let it go. Let go of control. And start to appreciate yourself and the beautiful sky placed above you and the fact that your bed is so comfortable and your dreams are so revealing. And even if you lose everything you thought you wanted or deserved, it's ok because you will gain a relationship with yourself.
That's what happened. I thought I was going to lose everything and then I stopped caring and then I started loving myself and that's where this music came from.
Is this an ok bio? Do I sound like a weirdo? I don't know what's left to say!
I'm lucky enough to have shared my life with Louie, because we have grown in ways that elevates the messages in our art. Our personal and collective journeys are reflected in the new music. And yours will be reflected in the experience you have when listening.
Being a human is (sometimes) awesome!
Xo
Liz Nistico
lead singer of HOLYCHILD, insert other accolades here too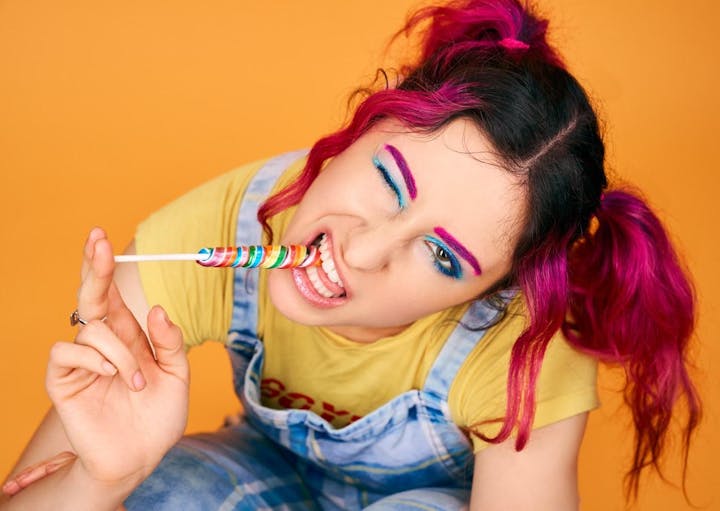 As LA's glitter grunge princess, Holander embodies the bright lights and buzzing energy of a city after dark. She's garnered a reputation for interweaving evocative stories with raw emotions against the backdrop of edgy, earworm pop melodies.

Holander explores the corners of indie-pop by masterfully knitting together brat, brooding, electro, dance, and alternative pop. Embracing vulnerability as empowerment, the 22-year old runds the emotional gamut from pettiness to passionate and carefree to heart-wrenching across a never-ending non-stop bop.

Having recently released her debut EP, "Glitter Grunce," the singer celebrated by headlining LA's historic industry event, School Night. Her standout single, "boy Tears," shot to 50k Spotify streams, garnering her a loyal and sassy fanbase.

You'll immediately fall under the trance of this pink wrapped prpincess as soon as she hits the stage and transports you to her pink paradise. Holander has graced the stage at iconic LA venues including The Echo and Moroccan Lounge, as well as collaborating with artists such as Vesperteen, New Beat Fund, and HOLYCHILD - the latter of which she is touring with in February 2020.

Following the 2020 tour, Holander is slated to release her sophomore EP. While the songs are under wraps, she has noted it will be, "dedicated to empowerment junkies." If cotton candy were a person, it would be Holander.

Venue Information:
Moroccan Lounge
901 E 1st St
Los Angeles, CA, 90012