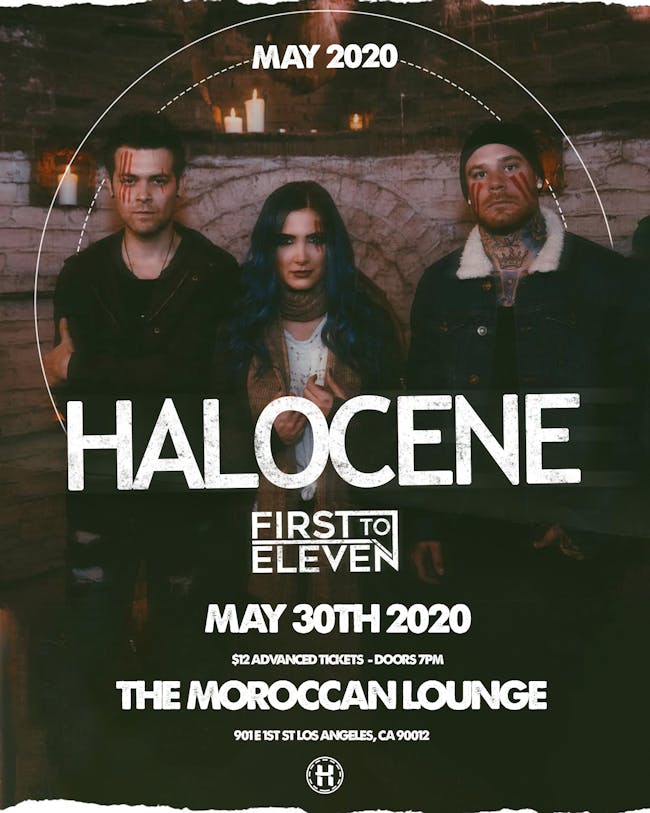 Moroccan Lounge Presents Halocene w/ First To Eleven
Halocene
FB - https://www.facebook.com/pg/Halocene/
Twitter - https://twitter.com/Halocene
Insta - www.instagram.com/wearehalocene
Twitch - https://www.twitch.tv/halocene
Youtube - https://www.youtube.com/user/Halocene
In late 2008, two dudes and a chick met up through Craigslist and began recording their first EP, 'The Secret,' from day one. With a business mindset and an undeniable drive, Halocene has opened for platinum selling artists Blink 182 and Fall Out Boy, the Vans Warped Tour, and more without a label or management.
In 2011, they released their sophomore album, 'Can You Hear Us Now?' with the lead single 'Sometimes,' generating over 400,000 views on YouTube. They continued to release many rock covers of popular tunes and became an internet sensation, before heading out on several US tours spanning from California to New York City.
Their most recent effort, 'Make It Loud' released in spring of 2014. After a long spurt of touring, the band decided to switch gears and start uploading rockified pop covers to YouTube full time, generating a combined 2 million views. "It's not that we don't want to make original music anymore," Addie says, "It's just that these covers are super fun for us and have proven to be very successful." The band says they plan to record new original material in the spring.
Self-produced and self-funded, Halocene has proven that hard work and perseverance pays off. They continue to prove successful with each new release.
First To Eleven
Venue Information:
Moroccan Lounge
901 E 1st St
Los Angeles, CA, 90012